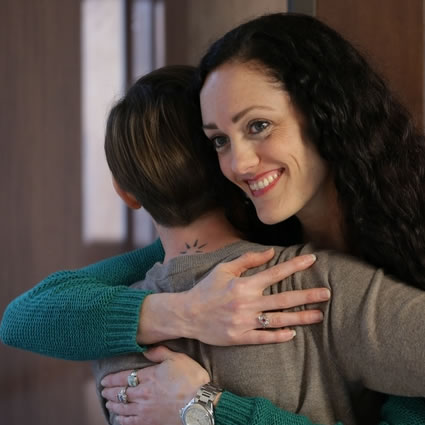 Gabrielle Grandell Reviews
What Our Dallas Patients Say
Gabrielle Grandell loves when patients share their feedback and comments after working with her. Please read her client testimonials below to see what other people have achieved while they worked to "Get Well With Gabrielle" to unlock their true health potential.
Share your stories too! Click here to send your feedback about Gabrielle.
For more information, or to schedule an appointment contact us today.


So Grateful for Gabrielle
I had been experiencing digestive issues, sleep issues, and cognitive issues when I first came to Gabrielle. After running a couple of tests to see what may be the cause, we began a regime of vitamins, elimination diet, and restructuring some healthier habits. It was overwhelming at first because I thought I was doing everything right! But for my body, not all those things were good. Gabrielle was a great support during the process and was a helpful source of information when it came to finding nutritious food alternatives, specific supplements, and reducing my exposure to inflammatory items. I wasn't sure how "different" I would feel after making all of these changes, but the test results showed how I needed to make changes for my overall health. I feel SO different! My digestive health has made the most improvement and I hadn't realized how much of an impact that would have on the rest of my body. I'm so grateful Gabrielle was able to help me figure out what was wrong and educate me about how to heal.
Highly Recommend
I have suffered with severe episodes of mania, anxiety, agitation and sleeplessness for thirty years. My most recent episode lasted eighteen months. I was taking four psychiatric medications and my psychiatrist was still unsuccessful in getting my symptoms under control. In November, 2019 he wanted to add a fifth medication in the form of a long-lasting shot. At this point, I found a new psychiatrist who teamed up with Gabrielle Grandell to come up with a plan for my recovery. Within two weeks, I began to feel better. In a month, my symptoms disappeared entirely. They recommended some supplements and a change in diet and now I am working to wean off of my Psych meds. I am excited and amazed at how good I am feeling. To me and my family, this is a miracle! I highly recommend Gabrielle to anyone who may suffer from mental illness.
Feeling Much Better
I would like to thank you for helping me! I was so discouraged that my endocrinologist said there was nothing I could do about this autoimmunity other than take medication. You have shown me that that is not true. The lab just posted my lab results online and my TPO antibodies that were greater than 900 in June are now at 174!! I started taking the zinc and glutamine you recommended and am doing the digestive support supplements as well. I just wanted to let you know that not only am I feeling much better after working with you but my labs are also showing that I'm doing much better!
So Grateful For the Help
I just wanted to say thank you for everything. I feel like we work on nutrition and coaching in our sessions and it's great. I sometimes refrain from talking about my issues with loved ones because I feel like it has gone on for so long. I know talking about it helps. With that being said, sometimes when the floodgates open they really open and that's what happened with you. I am so grateful for you and where you have gotten me thus far in the healing process. I think I just have gotten freaked out about the Lyme and want to take steps back in my journey to feeling better. I'm so dedicated to this and so tired of being sick that I just want to feel energetic and live an abundant life. Thank you again for listening and for your uplifting words of encouragement and for your patience for keeping me on track.
Informative and Helpful
There is not enough I can say about the informative and helpful support I received from Gabrielle! She walked me through the analytics of what a real food guide should be instead of the false, profit-based pyramid we all grew up on. I was prescribed two different antidepressants and had been taking them for 10 years when we met, but didn't want to anymore. With the combination of improving my nutrition and taking the supplements Gabrielle recommended, I can say I am feeling great and off both of my antidepressants for 8 months now!! I would highly recommend Gabrielle to anyone that is wanting to improve their overall health and how they feel day to day!
Great Listener and Answers Questions
I have been seeing Gabrielle Grandell at Living Well Dallas since March 2018. After seeing Dr. Mark Hyman's docu-series "The Broken Brain" I decided to seek out a functional medicine health coach and nutritionist to get me healthier as I prepared to go into retirement in the next year or so. My regular doctor just wanted to continue to give me medications and I did not want to continue down that path!
My main problem was I could not lose weight even though I was eating a very clean, organic and vegetarian diet. I already eliminated all processed foods and added sugars. I was doing all the right things but getting no results. I also had other health issues such as high blood pressure, lethargy, low energy and digestive issues. Once some initial testing was done, Gabrielle discovered my inability to lose weight had to do with some underlying health issues I was not even aware of but had plagued me for years. I started various supplements to help begin to restore my much depleted system and followed food plans designed specifically for my needs.
Just three months later, I have lost 20 lb ( no calorie counting) and I'm off all my blood pressure medications!! What I know is that this is not a "quick fix" but will require diligent and focused work and communication between Gabrielle and me as we work together to address these underlying health issues. She is a great listener and always makes sure my questions are answered before we discuss anything new. Gabrielle quickly answers my secure messages on the patient portal to ensure all communication and directions are clearly understood. I decided that I am worth the investment of getting healthy! I would rather spend the money on me now and improve my health than give it to the doctors and hospitals when I am sick later. Thank you Gabrielle!
Seeing Great Improvement
I wanted to update you on my progress with my blood pressure. Based on your suggestions, I removed the sugar, white rice, black tea and milk from my diet. Instead, I added hibiscus and green tea, brown rice/wild rice into the routine. I am seeing great improvement! Daily measurements at 7 a.m. show that the pressure dropped to below 130/ 90 most days. It used to be 145/ 95 most of the time. The improvement in BP gives me great joy that we are on the right track.
Learned so Much
Thank you so much for your care and guidance over these past few months. I have learned so much from you and you have given me hope back that I'd lost in my physical and mental health. Thank you for your patience and hard work you've put in to helping me succeed. You are amazing at what you do because you truly care about your patients in all aspects of their lives. I am excited to continue working with you and am grateful for you!
Amazing Benefits
Thank you for all you have done to help me! I know I'm not the easiest client and have had a good deal of physical and emotional stuff going on. I so appreciate your patience and knowledge on working to heal my gut naturally. Taking the supplements you recommended as well as following the diet has worked for the first time ever! I am now pain-free and able to eat fat at any meal. Thank you so much for leading me in the right direction. I have been able to gain weight and have a normal period again. It all still feels like a miracle, but you taught me so much about the amazing benefits of approaching health issues from a functional medicine standpoint. I have completely changed my thoughts and beliefs on nutrition. Thank you so much for providing an awesome foundation for me that I am now getting to share with others!

Gabrielle Grandell Reviews | (817) 715-0512