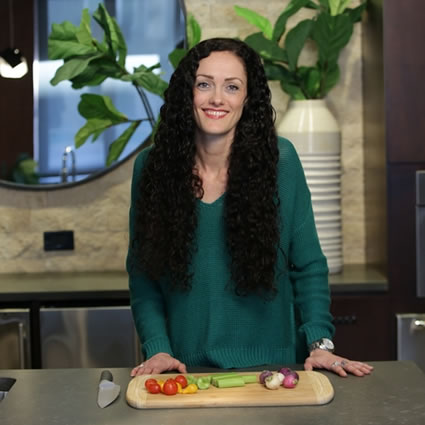 With one of everyone's favorite fiestas–Cinco de Mayo–coming soon, you may wonder how you can still celebrate the day and be kind to your health. Gabrielle shares her suggestions.
Just Say No to GMOs
While corn is a staple in many Mexican dishes, it's important to buy organic corn products, as so much of the corn crops in the United States are genetically modified. Gabrielle's favorite brand is Siete.
Veronica Garza, the Co-Founder & President, had health challenges and was diagnosed with multiple debilitating autoimmune conditions. She decided to adopt a low-inflammation, grain-free diet and began making grain-free tortillas. Read more about her story and how Siete came to be.
Gabrielle likes the Siete brand because the chips are delicious, high quality, and come in many flavors. Instead of corn, the chips are made with cassava flour. Siete also makes cinnamon churro chips if you're looking for a sweet end to your meal!
Watch for Sneaky Sugars in the Salsa
While salsa is filled with healthy veggies, some brands have sugars lurking inside. It's important to be an avid label reader. Watch for added sugar or high fructose corn syrup.
Gabrielle particularly likes the Yellowbird brand of salsas. They have lots of flavors and some varieties that don't include tomatoes, which is important for people who have to avoid nightshades.
Consider Dairy Free for Better Digestion
If you love cheese, but it doesn't love you back, there are some fantastic dairy free vegan options available, which are also better for stomach and digestion. "A lot of people not only have sensitivity to lactose (the sugar in dairy), but also to the protein. Therefore, choosing a vegan alternative can provide you the flavor you're looking for and some protein without the potentially inflammatory components," said Gabrielle.
Here are some of Gabrielle's favorite vegan brands: Kite Hill, Miyoko's, Treeline and Forager Project. She finds that the vegan cheeses are all so good on Cinco do Mayo favorites, including tacos, enchiladas or quesadillas, and that you can't tell there's no dairy in the cheese.
Here are some of Gabrielle's favorite recipes that are not only tasty, but healthy to boot!
RECIPES
Lime Grapefruit Margarita Mocktail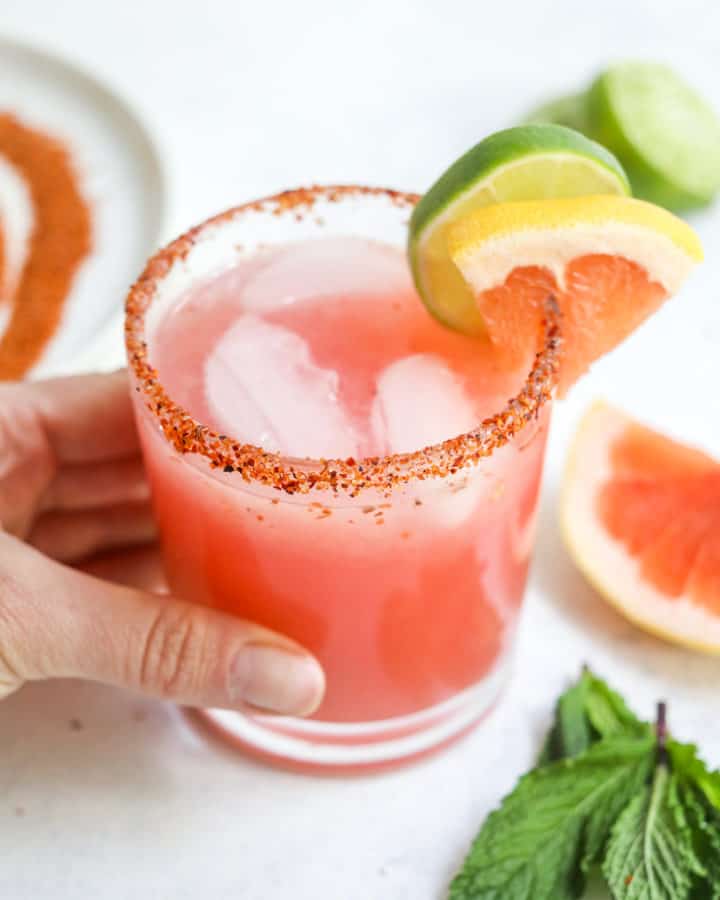 Adapted from pinchmegood.com
4 ounces fresh grapefruit juice about 1 large grapefruit
2 ounces fresh lime juice about 2-3 limes plus more for garnish
1 tablespoon honey or maple syrup
Pinch of sea salt plus more for rimming the edge of the glasses
1 cup of ice
2 ounces lime or grapefruit sparkling water
Directions:
Squeeze the grapefruit juice. Slice a large grapefruit in half and use a citrus juicer to squeeze all of the juice out of both halves of the grapefruit (about 4 ounces). If you can't find fresh grapefruit then store-bought grapefruit juice is just fine as a replacement.
Squeeze the lime juice. Use a lemon/lime juicer or your hands to squeeze about 2 ounces of fresh lime juice into the same container you squeezed the grapefruit juice into.
Shake it up. Add some ice to a mason jar or cocktail shaker, pour in the grapefruit and lime juice along with the honey and a pinch of salt. Cover and shake well for 30 seconds.
Rim and fill the glasses. Run a cut lime or piece of the grapefruit around the edge of two short glasses, pour some salt onto a plate and dip the rim of each glass in some salt. You can use regular kosher salt or margarita
salt you can buy at most stores. This step is optional but necessary for the best margarita experience.
Serve. Evenly pour the grapefruit margarita into the glasses and top off with some grapefruit or lime sparkling water.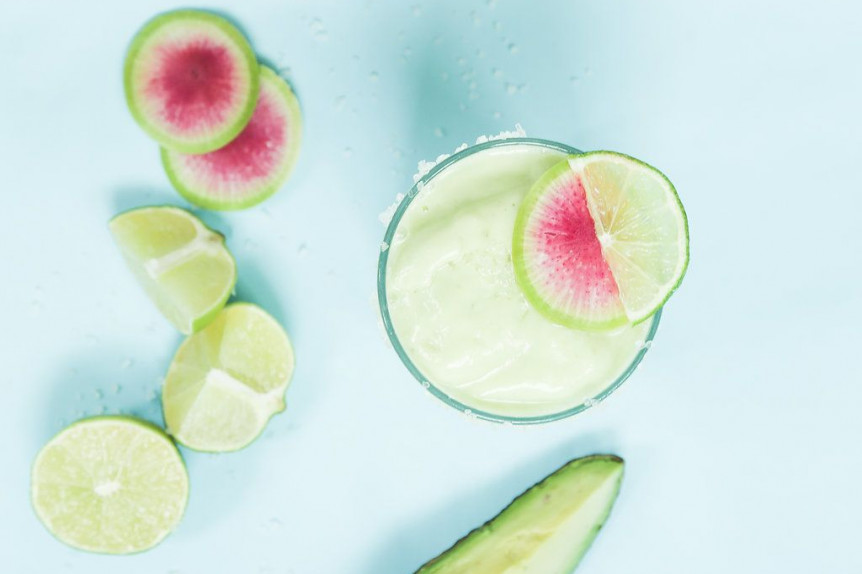 Adapted from nutritionstripped.com
½ small ripe avocado
Juice of 1 lime (about 2 tablespoons)
½ teaspoon sea salt
2 tablespoons honey
2 tablespoons fresh orange juice
4 ounces organic tequila
1 cup of ice
Garnish: fresh lime zest, salt on the rim, watermelon radish (just for looks)
Directions:
In a blender, combine all ingredients until smooth. Serve immediately and garnish with optional garnishes or salt the rim prior to pouring the margarita.
Tip: Blend in a high-speed blender for a super creamy margarita. I also love these glasses to serve in.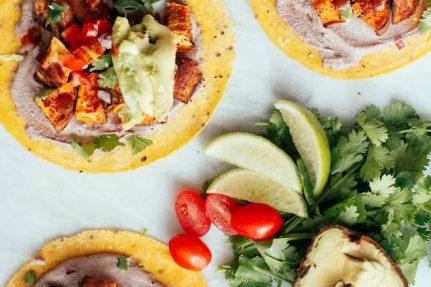 Adapted from nutritionstripped.com
4 cups diced sweet potatoes
BLACK BEAN PECAN CREAM
1/2 cup canned light coconut milk
15 ounces (about 2 cups) cooked or canned black beans, well rinsed
1 cup pecans
Juice of 1 lime
1/2 teaspoon ground cumin
1/4 teaspoon ground sumac
1/2 teaspoon sea salt
2 garlic cloves
1/2 jalapeno
Freshly ground black pepper
4 organic corn tortillas
LIME COCONUT CREAM
Juice of 1 lime
1/2 canned light coconut milk
Pinch of sea salt
GARNISH: chopped romaine, chopped jicima, sliced radish, fresh cilantro, sliced avocado, jalapeno,
Directions:
Preheat the oven to 400 degrees F. On a lined baking sheet, add chopped sweet potatoes and drizzle about 1-2 tablespoons of olive oil, sprinkle with sea salt, freshly ground black pepper, ground cumin, and a pinch of ground cinnamon all to taste. Bake for 35-40 minutes or until tender. Set aside.
In the meantime, make the black bean pecan cream in a food processor combine coconut milk, pecans, and black beans to create a paste. Add fresh lime juice, ground cumin, garlic, jalapeno, ground sumac, sea salt and black pepper. Adjust seasonings to taste.
To make the lime cream, in a small bowl pour the coconut milk and squeeze fresh lime juice and a inch of salt, stir to combine.
To serve: gently warm corn tortillas in the oven (hot from roasting the sweet potatoes or on a skillet), dollop about 2-4 tablespoons of the black bean cream onto 1 corn tortilla, place roasted sweet potatoes on top, drizzle lime coconut cream and add garnishes as an option.